Let's face it: we all miss Big Time Rush!
Even though it's been almost a decade (feel old yet?) since we were introduced to Kendall Schmidt, James Maslow, Carlos PenaVega and Logan Henderson with the series on Nickelodeon, we still find ourselves going through our old music playlists and jamming out to OG tracks like "Any Kind of Guy," "Elevate," "Music Sounds Better with U," and "Like Nobody's Around."
Since the show wrapped on July 25, 2013 with the band ending live shows in 2014, each member of BTR has pursued careers in the 'biz and (as we expected) are killin' it! While we have been (and always will be supporting) whatever endeavors the guys choose on their professional journey, we can't help but wonder if Schmidt, Maslow, PenaVega and Henderson will ever consider getting back together one more time to perform. With groups like Backstreet Boys, 98 Degrees and *NSYNC reuniting (remember that VMA performance in 2013??), what's to stop Big Time Rush from doing this?!? Absolutely nothing. 
At the 2014 Kids' Choice Awards in Los Angeles, Kendall talked to us about his latest project, Heffron Drive, but of course being the true Rushers we were, we NEEDED to know if there were talks about a reunion.
"BTR hasn't ever broken up, so I suppose whenever a good tour comes around we'll be there," he told CS exclusively.
Four years later, we spoke to Logan Henderson at the Stars & Strikes for APCH in Los Angeles this past March, and we asked if he'd ever make music with his former band members ever again. His response? Not something our 17-year-old selves would be too crazy about.
"I want a great first album," Henderson told Celeb Secrets in terms of goals for 2018. "I want to make it the way that I envisioned it, I wanna see people on the road that I haven't seen in a long time and I want to travel."
"I have special collaborations on this album, but I wanna wait for you guys to check it out when it comes out. It's not going to be with [Kendall Schmidt, James Maslow] — I've done enough with those guys. I love them to death."
UMMMMM…..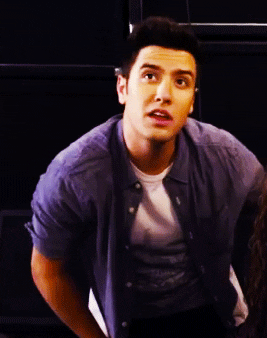 Our hope was then RESTORED two weeks ago, on the nine-year anniversary of the show's pilot when Carlos PenaVega posted THIS slideshow of photos on Instagram with the following caption:
"9 years ago my life changed forever. Thank you to everyone who has supported me since then! Can't wait for the next 9! Shall we do a 10 year reunion tour next year?! ;)"
SHALL WE DO A 10 YEAR REUNION TOUR NEXT YEAR!?!?!?!?!?!?!
Yes, Carlos, yes you should. IS THAT EVEN A QUESTION??? Even Kendall agrees!!!! 
And if you look at the comments, so does Jordin Sparks. And Stephen Kramer Glickman, who played Gustavo Roque, wants it too.
We even addressed this to Kendall on the red carpet at 102.7 KIIS FM's Jingle Ball in Los Angeles, and you need to watch the interview below to see his response. And our reporter's reaction? PRICELESS. 
We're "Counting on You", James and Logan, to "Get Up" and reunite for this ten-year anniversary tour so we can have the "Time of Our Life" during this live show. And yes, every pun was intended.
Relive the good ole days by listening to BTR now:
Would you want to see Big Time Rush get back together? Let us know by leaving a reaction at the bottom of the post!