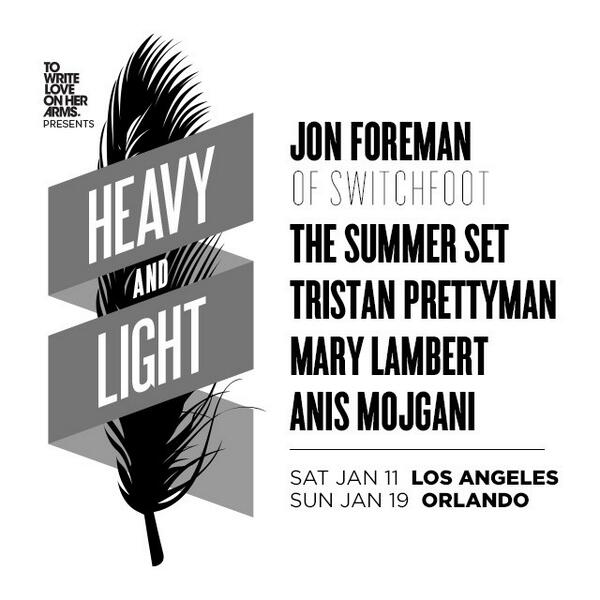 Hey CelebSecrets4U readers,
This Saturday night we had the amazing opportunity to attend Heavy and Light, a concert presented by non-profit To Write Love On Her Arms (known as TWLOHA). It was a night to recognize life's dark moments and celebrate life's light moments and create a sense of hope and support for all attending, with the performers sharing their stories of personal low points as well as personal triumphs.
The show started with incredible slam poet Anis Mojgani, followed by the inspiring and beautiful singer-songwriter-poet Mary Lambert (who you may know from being featured on Macklemore's "Same Love") and lovely singer-songwriter Tristan Prettyman. The Summer Set played their first show of 2014, performing songs such as "Young" from their debut album Love Like This, and a rare performance of "Legendary." Finally, Jon Foreman of Switchfoot took the stage. He performed his hit "Dare You to Move" as an acoustic audience singalong, "Only Hope," a cover of Lorde's "Royals" with TSS' Brian Dales, and a special performance with Bryce Avery from The Rocket Summer. The show concluded as all of the artists joined in a rendition of Bill Withers' "Lean on Me" for the finale.
It was a night of poignant and touching testimonies and musical performances! If you live in Orlando, Florida, don't miss this show on January 19th! Check out twloha.com for details and resources.
Check out our exclusive photos of The Summer Set from the show:
Photos: Jordan Passaretti/CelebSecrets4U